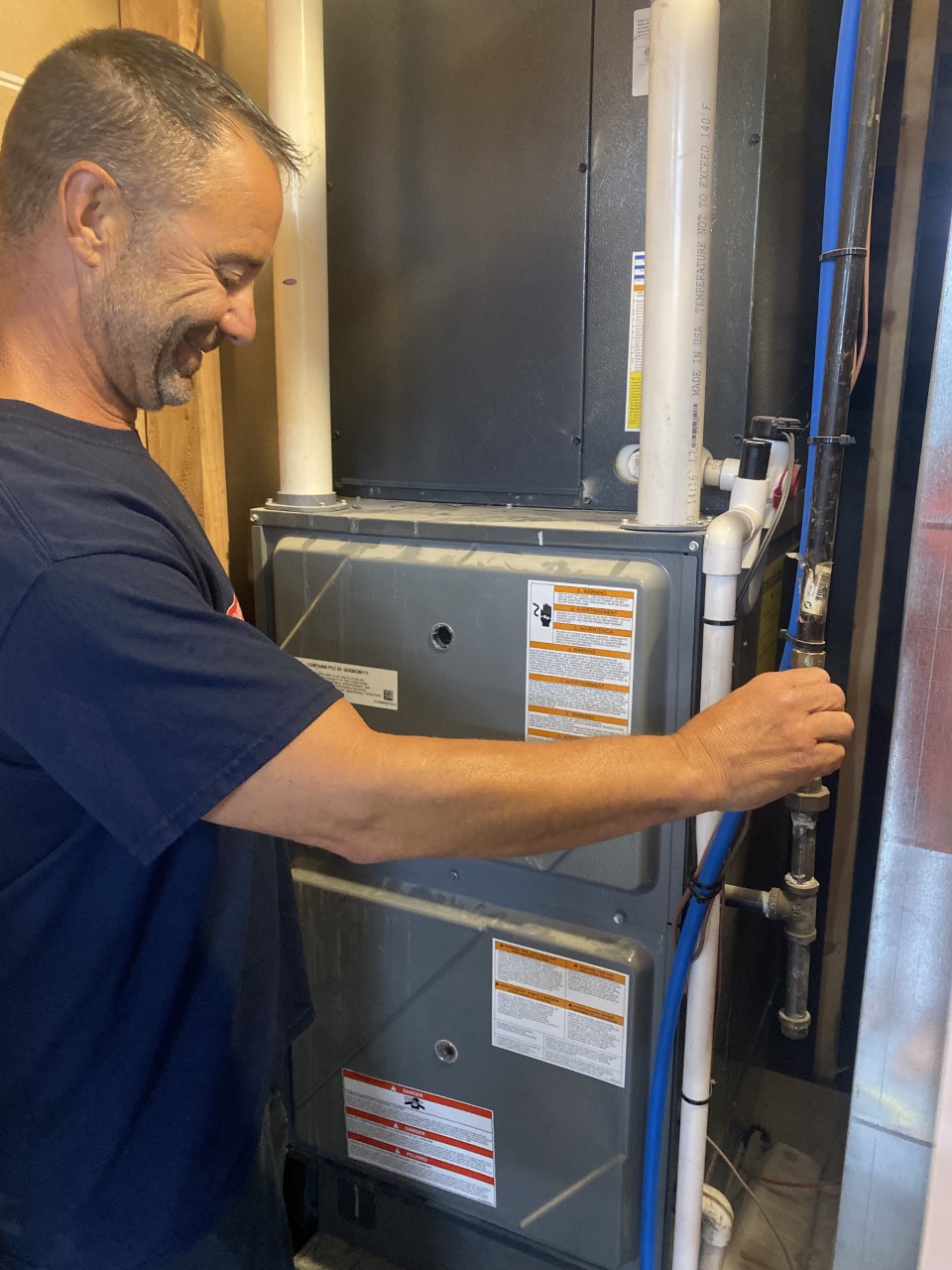 New Jersey winters can be harsh. No one knows how cold a home can be without proper heat better than the experts at Guaranteed Service, New Jersey's top HVAC provider. Here at Guaranteed Service, we believe that you and your family deserve reliable heat all season long and we work hard to make that possible. One of the ways that you can get this done is to keep your boiler system running smoothly.
As all homeowners come to discover eventually, repair services can happen when you least expect them and are the least prepared to handle the damages. Whether or not you are keeping up with your system's preventive maintenance needs, emergencies can happen. Preparation is the only way to get through these repairs without putting too much undue stress on you and your family.
How Do Boilers Work?
While it may not seem like it, having a basic understanding of your boiler system is essential in keeping it in the best shape possible and can help you extend the service life of your unit by years! Knowing how your boiler heats your home can help you understand its maintenance needs and recognize repair needs before they become major issues. Yet many homeowners do not know the first thing about how their boiler system works.
The most important function of the boiler is to heat your home. Though there are many different types of boilers that all work slightly differently, most boilers accomplish this task in much the same way. First, your boiler will begin by heating water within the main unit. It may do so using gas, oil, electricity, or coal, depending on the system. Once your water is heated, it is either turned into steam or kept in liquid form depending on the type of boiler you have. Regardless of the form this water might take, it will then be sent through your pipes and to a series of radiators throughout your home, which will put off warmth, heating the surrounding area.
Boilers Vs. Furnaces
Boilers and furnaces are the two most common heating systems for homeowners today. Whether your current system is in need of repairs, or approaching the end of its service life, you have likely considered having an entirely new system installed. One of the biggest questions, if this is a route you are putting thought into, is whether or not a boiler system is right for you and your family.
There are a couple of factors to consider when determining what kind of heating system will best meet your needs. Things like energy efficiency, cost, and maintenance needs.
Efficiency
Boilers are almost always more energy efficient than furnaces, but several factors can affect the efficiency of your heating system, such as age, condition, and fuel type. The age of your boiler or furnace, for example, can have a major impact on how efficiently it runs. Older boiler and furnace systems were unable to convert as much of the fuel needed to power them into usable energy to heat a home. Modern boilers can use as much as 98% of fuel to heat your home directly. If your boiler is more than 10-15 years old, chances are that it is not heating your home as efficiently as it once did or as a newer system would.
Boilers are typically much more energy efficient than furnaces, simply because of the less complex mechanics of a boiler system. Boiler systems heat homes by heating water and sending the steam from the hot water through pipes running under floors or around baseboards. Forced air systems like furnaces have more components, motors, secondary machines, and other places for energy to be lost.
Cost
When it comes to the price of installing an entirely new heating system, the cost can vary greatly depending on the type of system you are interested in and what is needed for your home. Since furnaces are easier to produce and install than boilers, they are typically less expensive, sometimes even by half as much as the price of a boiler.
Despite the more complex mechanical structure of a furnace heating system, installation is typically quicker, easier, and less expensive than boiler systems. One of the reasons that the installation is so much simpler is because of how much less complex the ventilation system has to be, and the lower risk factors associated with potential leaks. If you already have a ventilation system installed the cost to simply replace a boiler and not the full system should cost you much less as ventilation installation is a very involved process that can take several days to complete.
Maintenance
While all systems are going to require maintenance and upkeep, some units require more attention than others. Heating systems are machines, like any others, that can lose efficiency and break down over time. Keeping up with your system's maintenance needs can help you avoid costly repairs down the line.
Boilers typically require less annual maintenance than a traditional furnace system and their lifespan is typically much longer. This is because boilers are mechanically simpler than furnace heating systems. Boilers have very few moving parts that may break down.
Furnaces, on the other hand, are run by several small machines and motors that force air through the ventilation system to warm your house. Any number of these components may break down and need repairs, but the best way to prevent that is to stay on top of your regular maintenance.
Types Of Boilers
Boilers come in many different varieties, each having specific characteristics, functionality, and fuel sources. Different systems can also benefit your home differently so knowing a little about each type of boiler can help you make the right choice for your home and your family. For the most part, all boilers work similarly but use different power sources. The type of fuel that your home is already connected to might determine the type of boiler you need. For example, if your home is outfitted with a natural gas connection, installing an oil boiler would be exponentially more complicated and expensive than a gas boiler.
The 6 main types of boiler systems are:
Steam Boiler
Natural Gas Boiler
Electric Boiler
Oil Boiler
Water Boiler
Condensing Boiler
For more information on each type of boiler and which system might be right for you, give the experts at Guaranteed Service a call today!
Common Boiler Repair Needs
Because boilers have fewer moving parts than other heating systems, they typically require much less maintenance and repairs. Mechanically, boiler systems are typically simpler and, thus, less expensive both in installation and upkeep costs. As a general rule, the fewer moving mechanical parts, the less wear a unit is going to see over the years.
Some common issues that you might see from your boiler system include:
Leaks
Overheating
Corroded or rusted parts
Broken circulator pump
Sediment or debris build-up
Burnt-out heating elements
Who Can Repair Your Boiler?
It is important to keep in mind that all boiler repairs should only be performed by a licensed, trusted HVAC professional. If you already have a company that you depend on for your system's preventive maintenance, they can likely also handle any repair needs you may have.
Because there are so many different types of boiler repairs and so many types of boilers that require it, choosing the right service professionals as well as creating the best maintenance plan are vital to keeping up with your boiler's needs. Give Guaranteed Service a call today at (732) 242-7480 or visit us online to check out what some of our past customers have had to say about the outstanding services they received!
New Jersey's Top HVAC Company
If you're looking for reliable and trustworthy home service, look no further than Guaranteed Service! We provide comprehensive heating, cooling, plumbing, electrical, water treatment, and indoor air quality services all over Central New Jersey and the Jersey Shore. Our trained and knowledgeable technicians are some of the best in the business.
On top of all of that, we also offer exceptional same-day repair services–guaranteed! Backed by hundreds of positive online reviews from satisfied customers who were able to get their repairs done when they needed them, you can rest assured that when we say today, we really mean today. We know that your boiler system is not going to wait for normal business hours or for a team to finish all of their scheduled customers for the week if a serious repair is needed. Guaranteed Service is backed by years of industry experience, and our dedicated service team works hard to be available to you 24/7/365.
Call Guaranteed Service TODAY!
Ready to talk to one of our licensed HVAC experts about your boiler needs? Give Guaranteed Service a call today at (732) 242-7480 or visit us online. With our industry-leading customer service and high-quality repairs, you'll become a customer for life–guaranteed!